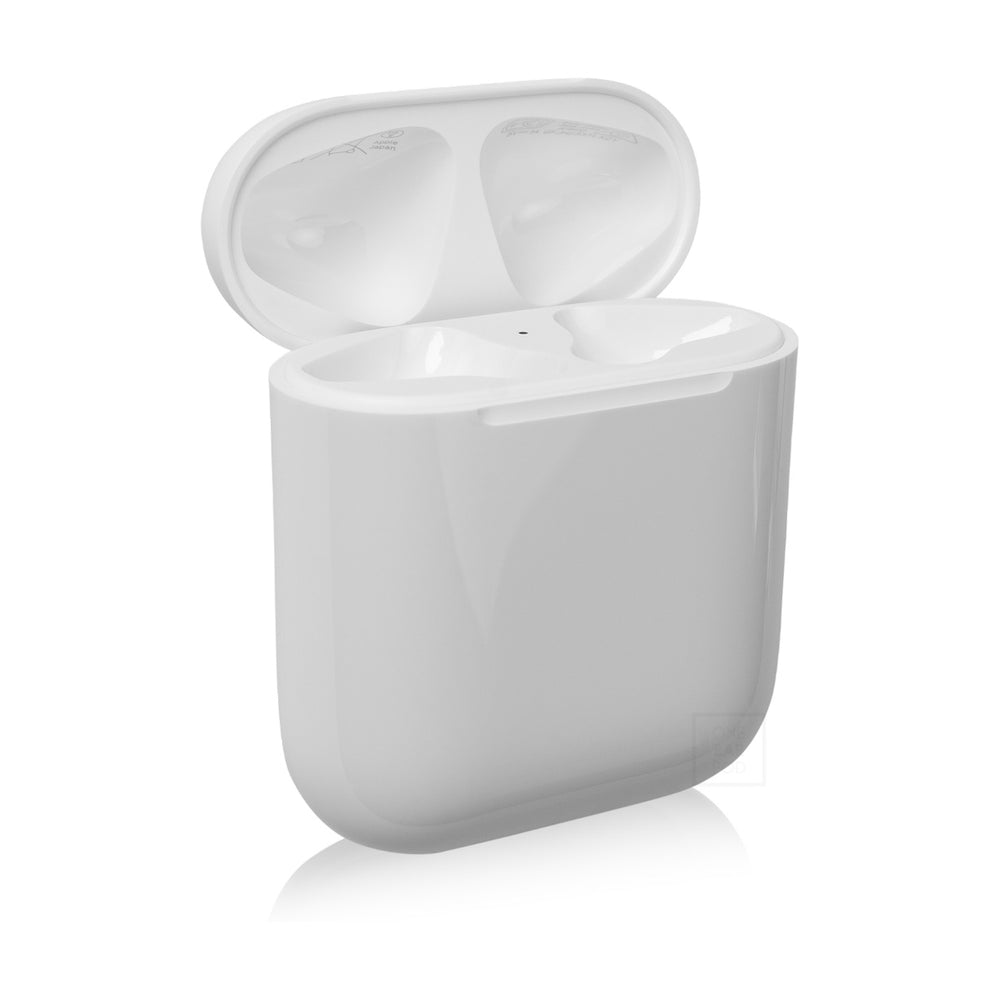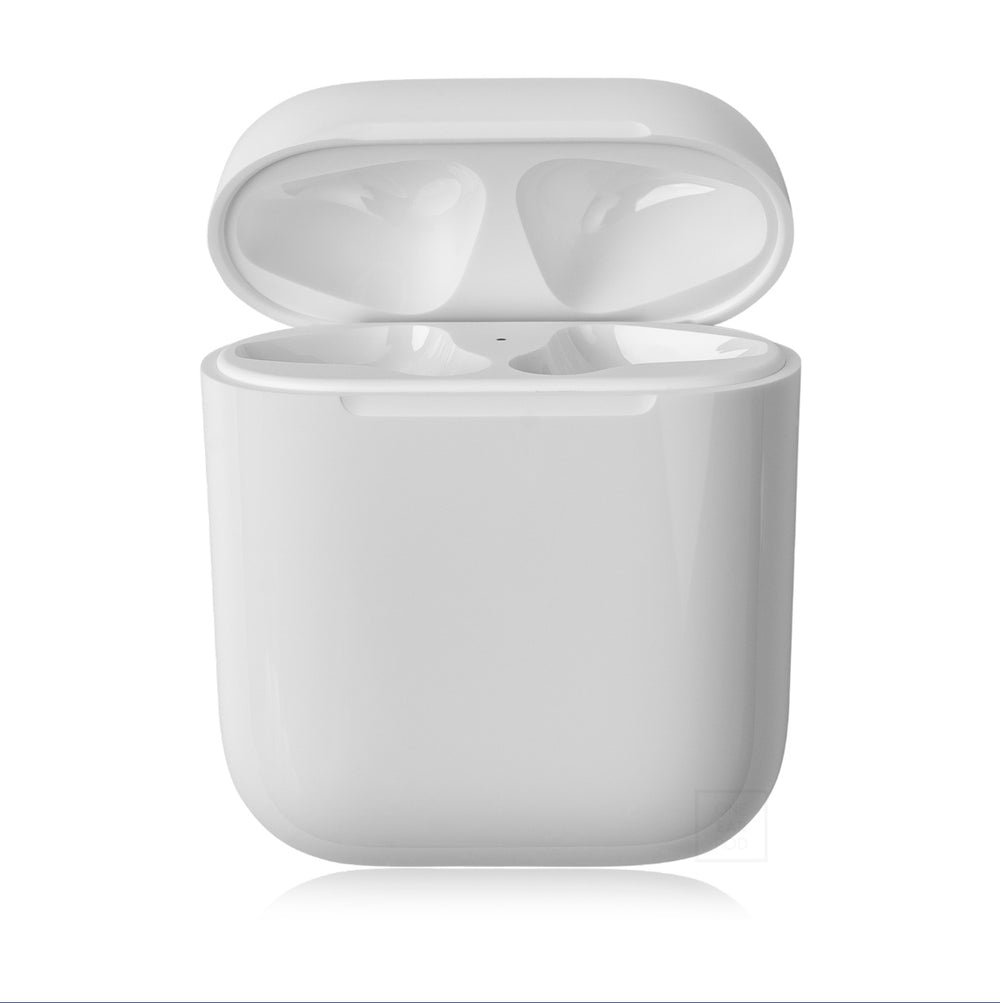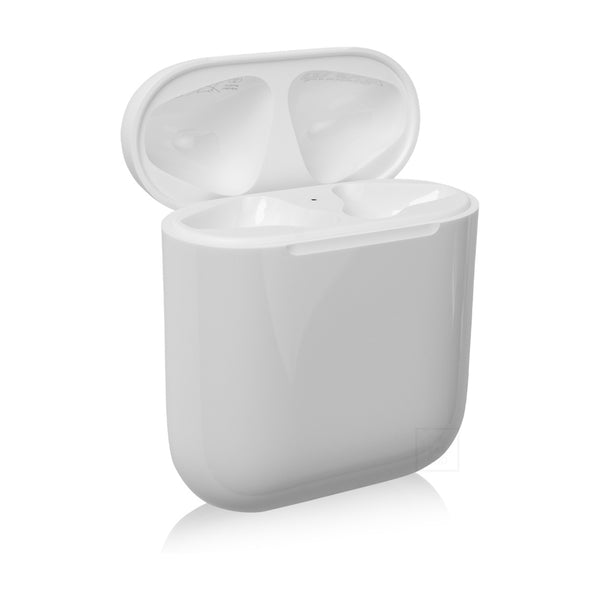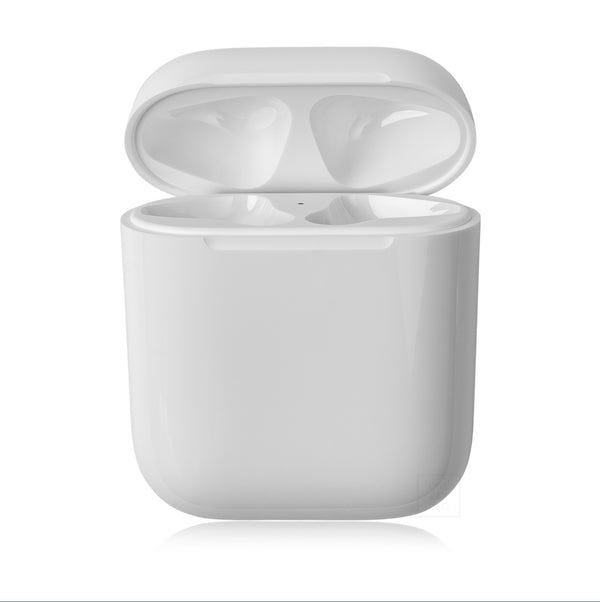 Apple AirPods 2nd generation charging case replacement
inkl. MwSt., versandkostenfrei ab 10€
Versandbereit in 24h per DHL
Bereits über 25.000 zufriedene Kunden
Immer brandneue Artikel
Product details
Lieferung
Information
Product Details
Apple Genuine Product (Brand New)

Model number: MRXJ2ZM/A (A1602)

Wired

24 hour battery capacity

Can be used for all AirPods 2. Generation Variants

UPC:

0190199098572
Scope of delivery
Apple AirPod 2. Generation charging case model number: MWP22ZM/A A1602 (charging case only)

Instructions for use on how to pair this charging case with an existing set
Buy individually: AirPods 2 charging case
You are probably one of the countless satisfied users of the second generation Apple AirPods. But imagine that you can no longer use your headphones as usual because you need a replacement charging case. We'll tell you how you can quickly order a spare part so that you can follow podcasts and video calls with the high-quality AirPods 2 and charging case again.
The good news first. Whatever your reason for wanting to buy a new AirPods 2 charging case, you don't need to purchase a whole new set. Given the cost of doing this, it's probably a relief for you now. We will also be happy to tell you how you can order individual components from us. Nothing stands in the way of enjoying music in the usual quality.
Reasons for a replacement order
Our experience has shown that there are various reasons why people want to buy an AirPods 2 charging case from us. We have summarized the main reasons for you.
AirPods case was lost
Loss comes in 1st place. The size of the headphones and the charging case is very practical. At the same time, it is also the reason why an AirPods charging case is lost faster than one would like. If you are lucky, if you lose the case, the valuable headphones are not stored in it and you only have to look around for a replacement.
AirPods 2 case is defective
Even if it is basically a very high-quality product, a defect can never be ruled out. If the manufacturer's warranty has already expired at the time of the defect, then there is nothing left but to look for a replacement at your own expense.
More battery life is desired
There is another reason why our customers have ordered a single charging case. If you spend a long time away from a power outlet, but don't want to do without the headphones, you can buy an additional charging case and thereby significantly increase the battery capacity for on the go.
It's worth buying an AirPods 2 charging case
If you decide to buy an AirPods 2 charging case, you can save a lot of money. Because of course a single charging case is much cheaper than if you would buy a complete bundle.
The money you save by doing this is in itself a good argument for buying it individually. But at the same time you can also avoid waste. This would inevitably arise when buying a complete set because you would not use all the components. Conversely, if you were to do this, it would mean that you would be disposing of parts of your old set that were still working. With your decision to buy a spare part, you make a small contribution to environmental protection.
The idea behind OneEarPod
You probably haven't heard from us yet and that's why we want to tell you briefly how OneEarPod came about. First of all, we were enthusiastic users of the Apple headphones ourselves. And we also have due to a defect or the loss of individual components made the experience that you cannot get spare parts from the manufacturer.
From our point of view, that was not only anything but customer-friendly, but also the opposite of sustainable. So we sat down and developed our OneEarPod business idea. We wanted to protect the environment as well as the budget of all users, for example by offering an AirPods 2 case individually.
We only have original parts
You don't have to worry about the quality of the charging cases we sell. We only sell original parts from Apple and can therefore assure you of the full manufacturer's guarantee.
In practice, we purchase complete bundles and then split them up. We benefit from the fact that roughly the same number of right and left headphones and charging boxes are ordered.
Before we send a product to our customers, we of course subject it to an inspection. The satisfaction of our customers is our top priority and that's why we want to make sure that we only supply you with flawless spare parts.
Don't save at the wrong end
By purchasing Apple AirPods of the second generation, you made a conscious decision in favor of a high-priced quality product. If you lost your AirPods case, don't try to replace it with a cheap copy from the Far East.
We can understand that the incentive to be able to acquire these very cheaply is tempting. However, you are usually exposed to very long delivery times. And compatibility cannot be guaranteed with counterfeit products. In the worst case, you destroy your headphones and are not entitled to a replacement or compensation.
How to connect your new charging case
So that you can use your new AirPods 2 charging case, you must combine it with the remaining components into a bundle. This is done within a few minutes. We have put together a clear guide that you can use to do this. Just go through the following steps:
Navigate to the Settings menu item and select Bluetooth. There you have to click on the info button next to the icon of the pods.
Next, click on "Ignore this device".
Repeat the previous step.
Now place both AirPods in the charging case.
Check the status display. It must blink yellow. To check this, you have to open the lid.
By pressing the setup button on the back of the charging box, you make the status indicator flash white.
In the next step you have to go to the home screen on the player that you want to connect to the AirPods.
Open the charging case lid and hold everything close to the player.
Click "Connect" on the player and then click "Done". You have now completed the process of setting up your AirPods 2 case and can use your headphones as usual.
Order conveniently online
You have long since been convinced of the advantages of buying an AirPods 2 charging case. But we also want to tell you how quickly and easily you can order from us. Since most customers are only looking for a specific spare part, we have made our online shop very clear.
You can immediately place an order for any product by choosing Express Checkout. You can pay for this particularly fast order processing using PayPal, Google Pay or shop Pay.
Your order will be processed and shipped within one day. With us, you only have to wait a few days until you hold your new AirPods 2 charging case in your hands and can use your headphones again with the usual quality.
Der Kopfhörer wurde von
Apple im Originalset gekauft. Unsere Aufgabe ist es, die einzelnen Teile aus
diesem Set auf Funktion zu überprüfen und anschließend als Ersatzteile zu
verkaufen. Da die Kopfhörer im Original gekauft wurden, besteht ganz normal
noch die Herstellergarantie.
BEREITS MEHR ALS 25.000 ZUFRIEDENE KUNDEN
---
Was dir auch gefallen könnte
---
Ähnliche Produkte
BESTSELLERS
SO BRINGST DU DEIN ERSATZTEIL ZUM LAUFEN
SCHRITT FÜR SCHRITT ANLEITUNG
1
Rufe im Menü "Einstellungen" den Bereich "Bluetooth" auf und klicke auf die Info-Taste neben den AirPods.
2
Klicke auf "Dieses Gerät ignorieren".
3
Klicke erneut auf "Dieses Gerät ignorieren".
4
Verstaue nun beide AirPods in dem zugehörigen Ladecase.
5
Prüfe die Statusanzeige, die jetzt gelb blinken muss, indem du den Deckel des Ladecase öffnest.
6
Drücke die Setup-Taste auf der Rückseite des Ladecase für einige Augenblicke. Du musst drücken, bis die Statusanzeige weiß blinkt.
7
Nehme das Abspielgerät, welches du mit den AirPods verbinden willst, in die Hand und gehe auf den Home-Bildschirm.
8
Öffne nun das Ladecase und halte dieses mit den AirPods darin neben dein Abspielgerät. Es startet eine Animation zur Einrichtung der AirPods.
9
Du musst nur noch auf "Verbinden" und anschließend auf "Fertig" klicken.
SO BRINGST DU DEIN ERSATZTEIL ZUM LAUFEN
SCHRITT FÜR SCHRITT ANLEITUNG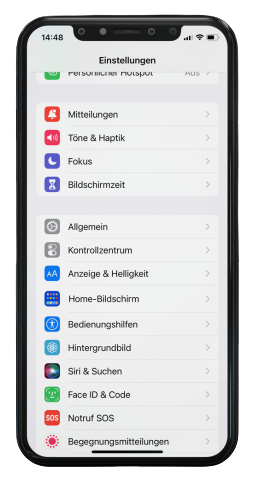 REASONS FOR A REPLACEMENT ORDER
WE ONLY PROVIDE ORIGINAL PARTS
THE IDEA BEHIND ONEEARPOD
BUY INDIVIDUALLY: AIRPODS 2 CHARGING CASE
weiterlesen..
ORDER CONVENIENTLY ONLINE